This string quartet began with a desire to write an In nomine, a popular instrumental form from the sixteenth century. At that time it became popular to write music for viol consort based on the meane (ie. alto) part from the In nomine section of John Taverner's Missa Gloria Tibi Trinitas. With this idea, I proceeded to complete a movement for string quartet in a few days, a very short time frame for me.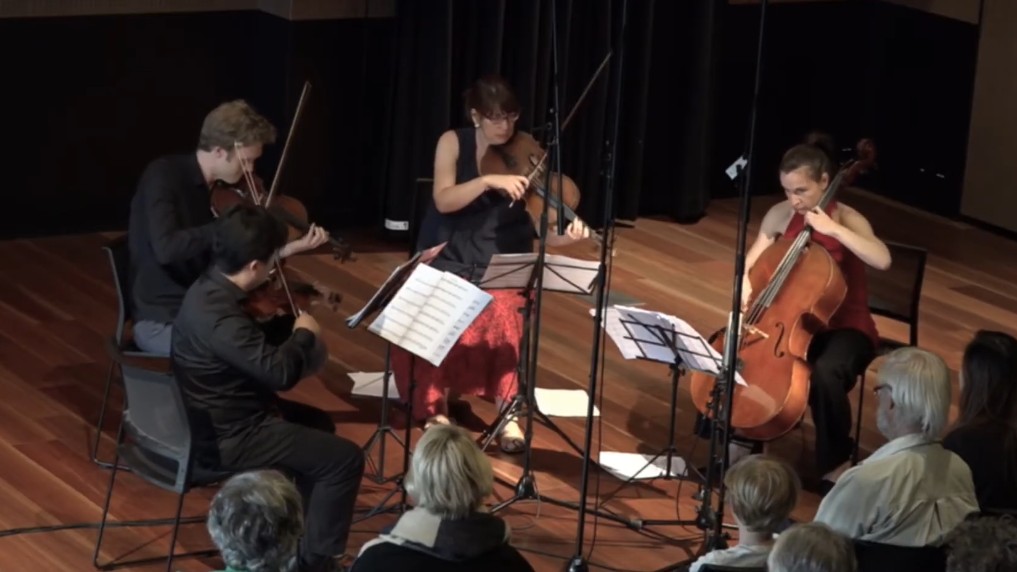 With what seemed like quite a good movement completed, I decided to make the In nomine the first movement of a full-blown string quartet. Shortly afterwards my first child was born, and the subsequent three movements took another two years to complete!
The first movement is a classic In nomine movement, with John Taverner's cantus firmus appearing in the second violin, with the other parts weaving harmony around it.
The second movement is a scherzo with trios. The scherzo is in sonata form, and is interrupted by four "trios", each a variation using a different set of three players drawn from the quartet.
The third movement is a slow set of variations, and uses the rare (for me) compositional device of silence, which is slowly filled in over the variations. The Flinders Quartet played it in 2016 as part of their inaugural Composer Development Program concert (listen here).
The final movement is a lively set of variations with intricate polyphony. As a tribute to my elder daughter Eleanor, it is exactly 2013 semiquavers long, and so tightly constructed that correcting consecutive octaves in one place required rewriting nine different places in the score. All this may appear dry, but the movement is joyful and would make a great spectacle to watch.